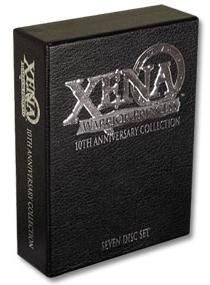 The Xena: Warrior Princess: 10th Anniversary Collection is a seven-disc DVD boxset, released on July 26th, 2005 (United States and Canada only). As the name suggests, it was released to commemorate the tenth anniversary of Xena: Warrior Princess. It contains 17 episodes selected by the fans of the show, considered to be the greatest in Xena history, as well as numerous commentaries, interviews, behind-the-scenes featurettes and mini Xena-related documentaries.
Episodes
[
]
Season 1
[
]
"Callisto"
Season 2
[
]
Season 3
[
]
Season 4
[
]
Season 5
[
]
Season 6
[
]
Special Features
[
]
Commentaries by Lucy Lawless, Renée O'Connor, Robert Tapert, Eric Gruendemann, and R.J. Stewart.
Interview with Robert Trebor, about his character Salmoneus.
Interviews with some of the frequent cast members of Xena: Warrior Princess, explaining their portrayals of mythological characters.
A mini docuemtary about the life and career of actor Bruce Campbell, famous in the Xenaverse for his character Autolycus and occasional directing.
"Xena's Hong Kong Origins", a documentary that discusses the influence that Chinese martial arts-based movies had the creation and development of the character of Xena, featuring Xena: Warrior Princess crew members Rob Tapert, Liz Friedman,

David Pollison

and Doug Lefler.