For the fictionalized version, see Robert Tapert (character).
---

Robert Gerard Tapert, often known as Robert Tapert or just Rob Tapert, is the co-creator and executive producer of Hercules: The Legendary Journeys, Xena: Warrior Princess, Young Hercules, and the Universal Action Pack movies. He wrote the story to Amazon High and produced Hercules and Xena - The Animated Movie: The Battle for Mount Olympus.
On March 28, 1998, Tapert married Lucy Lawless. They live in New Zealand with their two children: Julius Robert Bay Tapert (born 1999) and Judah Miro Tapert (born 2002).
Gallery
[
]
Producing
[
]
Tapert, along with producer-director Sam Raimi and actor Bruce Campbell, was one of the three founders of Renaissance Pictures. He produced Sam Raimi's Evil Dead Trilogy. He also served as an executive producer on the following television series:
M.A.N.T.I.S. (1994-1997)
American Gothic (1995-1996)
Spy Game (1997)
Jack of All Trades (2000)
Cleopatra 2525 (2000-2001; heavily re-worked from his treatment of Amazon High)
13: Fear is Real (2009)
Legend of the Seeker (2009-Pesent)
Some of the major films Tapert produced include the Darkman trilogy, Timecop, The Quick and the Dead, The Grudge and The Grudge 2, The Messengers, 30 Days of Night, and Drag Me to Hell.
Writing
[
]
Tapert wrote one episode of Hercules ("Once a Hero"), the Young Hercules movie, two episodes of Young Hercules ("The Treasure of Zeus: Part 1" and "The Treasure of Zeus: Part 2: Between Friends"), and the unaired pilot of Amazon High.
He wrote six episodes of Xena: Warrior Princess:
In addition, he wrote the first episode of Cleopatra 2525 ("Quest for Firepower") and the direct-to-television film Alien Apocalypse, for which he was uncredited.
Directing
[
]
Tapert directed five television episodes:
His director's cut of A Friend in Need was later released on DVD.
Acting
[
]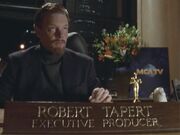 Tapert has appeared onscreen twice, both times uncredited. His first appearance was as a crowd member in the Hercules episode "Gladiator."
His second appearance was as a version of himself in "The Xena Scrolls." Bruce Campbell later portrayed "Rob Tapert" in episodes of Hercules: The Legendary Journeys.
External links
[
]