We're Getting Mutants in the MCU - The Loop
Play Sound
"This is the story of a time long ago – a time of myth and legend. When the ancient gods were petty and cruel, and they plagued mankind with suffering, only one man dared to challenge their power – Hercules. Hercules possessed a strength the world had never seen – a strength surpassed only by the power of his heart. He journeyed the Earth – battling the minions of his wicked stepmother, Hera, the all-powerful queen of the gods. But wherever there was evil, wherever an innocent would suffer, there would be Hercules."
―Series intro, narrated by Al Chalk.
Hercules: The Legendary Journeys (or "H:TLJ") was a television series which aired from 1995 to 1999. The series depicts American actor Kevin Sorbo as Hercules, the son of the god Zeus and the human woman Alcmene. After the jealous Hera kills Hercules' family in The Wrong Path, he sets out to foil her evil plans, and help others he encounters along the way. He is usually accompanied by childhood friend, Iolaus, played by British-New Zealand actor Michael Hurst. Sometimes Hercules is joined by Salmoneus, depicted by American actor Robert Trebor.
H:TLJ had two spin-off shows, Xena: Warrior Princess and Young Hercules, plus one animation, Hercules and Xena – The Battle for Mount Olympus. The live shows shared a number of reoccurring characters, but rarely shared story lines. All of the shows were filmed in New Zealand with mostly local actors, but they typically used American accents.
While the setting is usually ancient Greece, no solid historical timeline or locales are adhered to, and elements from various periods are seen, such as Oriental, Egyptian and Medieval. The cast, extras, and villagers often represent a wide range of cultures and races not common to ancient Greece. Anachronisms and references to the modern world in episodes were common, and often scripted on purpose.
Some of the crew worked across the three shows, or switched between them. During later seasons, some left to work on The Lord of the Rings film trilogy. H:TLJ would become one of the highest-rated syndicated series at the time, and it and its spin-offs were seen as the height of the first-run, syndicated era. The show won 3 ASCAP awards, and was nominated for over twenty other awards, including a Saturn Award.
Cast
[
]
Supporting Cast
[
]
Production staff
[
]
Episodes
[
]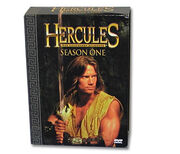 Hercules-Xena Timeline (Chronology of the Series)

[

]
Hercules Episode List by Production Order. Some of the video collections include the television movies as part of Season 1. The cast sometimes referred to the films as Season 1 of seven seasons (see Kevin Sorbo's book, True Strength).
Tele Movies
[
]