Chin, or the "The Land of the Rising Sun" is a country that takes up most of Far Eastern Asia. When Xena first visited, Chin was largely divided between two large kingdoms, The Lao Dynasty and The Ming Dynasty.
Story
[
]
Xena first travelled to Chin after meeting Borias. Borias and Xena wished to make an alliance with Lao Ma and Ming Tzu, the rulers of the Lao and Ming Dynasties respectively. The chance of making an alliance was blown, when Xena attacked Lao Ma and kidnapped Ming T'ien, the son of Ming Tzu. Whilst here, Lao Ma rescued Xena from Ming Tzu, and temporarily revealed a good side of Xena. Xena returned to Chin several years later to kill Ming T'ien, who was secretly the son of Lao Ma as well as Ming Tzu, and who now ruled Chin as a tyrannical emperor. Ares helped Gabrielle get ahead of Xena to Chin, in order to stop her from committing what she saw as an unnecessary murder. This led to Xena being sentenced to death, with Ming T'ien's continued tyrannical rule. Xena does, however, escape and kill Ming T'ien, against the wishes of Gabrielle.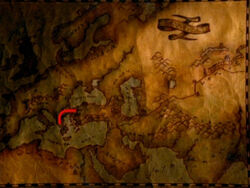 The third and final time Xena travelled to Chin was with Gabrielle and Joxer, to save Chin from the threat of the explosive substance known as Black Powder. They work with K'ao Hsin, the daughter of Lao Ma, to stop her twin sister Pao Ssu from destroying Chin. Once Pao Ssu is killed and presumably the secret of the Black Powder with her, the three realise that this wasn't the case, when Pao Ssu is mysteriously ressurected with her brother, Ming T'ien, as they continue to threaten Chin with the help of Kahn, who has control of a large army. Xena uses Lao Ma's powers to defeat them one last time.
Twenty-five years later, Xena's daughter Eve decided to visit Chin and India to spread Eli's message.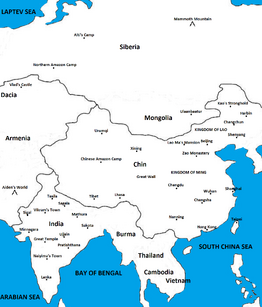 Places of Interest
[
]
Native People
[
]
Appearances
[
]
Chin in the Xenaverse
XWP Season Three
"The Furies"

"Been There, Done That"

"The Dirty Half Dozen"

"The Deliverer"

"Gabrielle's Hope"

"The Debt I"
"The Debt II"

"The King of Assassins"

"Warrior... Priestess... Tramp"

"The Quill is Mightier..."

"Maternal Instincts"

"The Bitter Suite"

"One Against an Army"

"Forgiven"

"King Con"

"When in Rome..."

"Forget Me Not"

"Fins, Femmes and Gems"

"Tsunami"

"Vanishing Act"

"Sacrifice I"

"Sacrifice II"
XWP Season Five
"Fallen Angel"

"Chakram"

"Succession"

"Animal Attraction"

"Them Bones, Them Bones"

"Purity"
"Back in the Bottle"

"Little Problems"

"Seeds of Faith"

"Lyre, Lyre, Hearts on Fire"

"Punch Lines"

"God Fearing Child"

"Eternal Bonds"

"Amphipolis Under Siege"

"Married with Fishsticks"

"Lifeblood"

"Kindred Spirits"

"Antony & Cleopatra"

"Looking Death in the Eye"

"Livia"

"Eve"

"Motherhood"
XWP Season Six
"Coming Home"

"The Haunting of Amphipolis"

"Heart of Darkness"

"Who's Gurkhan?"

"Legacy"

"The Abyss"

"The Rheingold"

"The Ring"

"Return of the Valkyrie"

"Old Ares Had a Farm"

"Dangerous Prey"

"The God You Know"

"You Are There"

"Path of Vengeance"

"To Helicon and Back"

"Send in the Clones"

"Last of the Centaurs"

"When Fates Collide"

"Many Happy Returns"

"Soul Possession"

"A Friend in Need Part I"

"A Friend in Need Part II"
Mentions
[
]
Xena: Warrior Princess
[
]