This article is a stub, or very short article, that is most likely incomplete and needs expansion.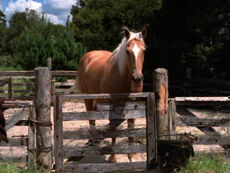 Argo II was Xena's second steed throughout XWP. She was the only known child of Xena's original horse Argo.
History
[
]
The only known child of Argo, Xena's first steed, Argo II was born and trained several years before Xena and Gabrielle's awakening by Joxer. Joxer never allowed anyone to ride her until Xena's arrival, where she was the first to ride her. She became Xena's travelling companion afterward, and joined her on many adventures, living on in her mother Argo's footsteps. It is assumed that after Xena's death, Argo II was inherited by Gabrielle.
Appearances
[
]
Argo II made ten episode appearances: